Top Personalization Trends in the Card Manufacturing Industry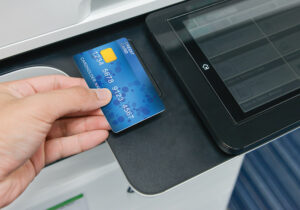 Personalization and issuance in the card manufacturing industry require technology, precision and efficiency to bring cards to life. In parallel with the underpinnings of Industry 4.0, digital machine intelligence within this segment brings increased efficiency and ROI opportunities to the forefront of smart card manufacturing.
Zain Aleem, global director business analysis & consulting at Entrust and a member of the International Card Manufacturers Association (ICMA), provides insights on how and why the trend for digital intelligence can leverage powerful real-time analytics to identify trends in productivity, bottlenecks, quality gaps and overall line-balancing. Production analytics continue to drive the next generation of smart manufacturing in card personalization and issuance, bringing enhanced value to operations and business alike.
Predominant Personalization Trends
The card manufacturing industry is witnessing two predominant personalization trends:
Diversification of products and services
Card personalization bureaus and regional centers are expanding their offerings to cater to a broader range of market segments. They're providing enhanced customization options on various substrates and leveraging advanced technology to offer precise control over card-holder experiences. This diversification encompasses mainstream, loyalty, VIP, eco-friendly, accessibility, finance, digital and identity markets. Additionally, there's a growing focus on flat card production, resulting in a complex landscape with multiple technology choices tailored to regional and market-specific demands.
2. Cost reduction
Efficiency and cost reduction have become paramount in the card manufacturing industry. Card personalization centers are investing in efficiency projects, training, data analytics and continuous improvement initiatives. They're also collaborating with suppliers and technology vendors to optimize operations and reduce expenses. This cost-conscious approach is essential to maintain competitiveness in a changing market landscape.
Drivers of Personalization Trends
The increasing demand for cards, driven by factors such as rising debt, population growth, e-commerce, cashless transactions and loyalty programs, has contributed to the industry's growth. However, the growth rate of card volumes has slowed down, leading to a need for value-added services and cost reduction strategies.
Here are the drivers of these trends:
Value-added offerings – To stay competitive, personalization centers are offering a wider range of services and materials, addressing the changing market dynamics. This has resulted in complex manufacturing processes that require careful management.
Cost reduction – Rising material and labor costs have prompted card personalization centers to focus on reducing operational expenses. They're adopting lean and Six Sigma methodologies to enhance efficiency and reduce waste.
Complexities in card personalization – Personalization centers deal with various complexities, including card types, technology variations, equipment manufacturers and numerous processes. These complexities pose challenges, but also drive the need for effective data-driven solutions.
Role of digital intelligence – Digital intelligence, powered by real-time analytics, plays a crucial role in identifying productivity trends, bottlenecks, quality issues and line balancing in personalization centers. Traditional methods are inadequate for comprehending the intricacies of production. Advanced statistical methods and machine learning tools are employed to proactively address issues and optimize processes.
Importance of process management – Efficient process management and streamlining are essential to minimize waste and achieve desired outcomes. Data insight, intelligence and analytics act as measurement tools to identify defects, reduce motion waste, optimize quality checks and improve overall efficiency.
Production analytics – An example is the Entrust Production Analytics Solution, a pivotal link to next-gen card issuance/personalization and Industry 4.0, incorporating digital analytics for operational efficiency. The software platform is built on delivering this value proposition to card personalization operations through a customizable, real-time aggregated architecture.
"Hybrid Issuance" (existence of physical and digital credentials in the same ecosystem) – As this continues to trend, there's an increasing need for operational optimization. Any insufficient operating expense intelligence on the physical side of this equation will lend favourability to the digital side of this equation.
Future of Data Intelligence and Production Analytics
Machine learning and AI are expected to revolutionize the industry further. These technologies will be integral in production planning, inventory management, resource planning and cost analysis. The utilization of subject matter experts, in tandem with data analytics, will continue to be a cornerstone of success for card personalization centers.
In conclusion, embracing digital intelligence, data analytics and advanced technologies is essential for the card manufacturing industry to navigate the evolving landscape, optimize processes and maintain competitiveness. Without these tools, the industry risks operating blindly through an increasingly complex forest of technology and processes.
More Insights on Card Trends
For more than 30 years, ICMA has represented the interests of the card manufacturing industry—which includes manufacturers, personalizers, issuers and suppliers—as its leading global association.
Throughout the year, ICMA members have the opportunity to share insights and knowledge by giving presentations during ICMA webcasts and events. The association's main event is its annual Card Manufacturing & Personalization EXPO. The 2024 EXPO will take place from May 13-16 in Orlando, Florida.
ICMA offers regular educational opportunities, including ACE-Manufacturing, ACE-Personalization and ACE-Advanced Technologies training and exams at the ICMA EXPO. ICMA also offers ACE-Commercial training, which provides sales, marketing, customer service and other key personnel at ICMA member companies with the opportunity to learn the fundamentals of card manufacturing.
Learn more about the benefits of ICMA membership.