Every year, the prestigious ICMA Élan Awards cast a spotlight on the best of the best in the global transaction card industry, honoring world-class achievements in card design, technological innovation and other categories that establish the global vanguard for card manufacturing excellence. Widely acknowledged as the most renowned platform for card excellence, the coveted Élan Awards distinguish ICMA manufacturers, suppliers and personalization/fulfillment members before their peers and customers as industry leaders.
A renowned showcase for the world's best cards and technology
The ICMA Élan Awards are open to members only and are selected from over 100 entries from North America, MEA, Asia, Europe and other areas of the world. Winning an Élan Award offers significant promotional opportunities for high-profile industry recognition and visibility.
The 2023 Élan Awards were presented by ICMA's Founder and Executive Director, Jeffrey Barnhart at the ICMA EXPO Awards Dinner in Orlando, Florida.
See The Winners
The 2023 Élan Awards were presented at the ICMA EXPO Awards Dinner in Orlando, Florida on May 17, 2023.
Categories
Feature Cards: These include Biometric Transaction Cards, Environmentally Friendly Cards and Metal Cards. There will be an award winner for each Feature Cards segment – biometric, environmentally friendly and metal cards.
Secure Payment Cards: These include Financial, Retail or Gas/Petrol branded cards from secure issuing organizations like Visa, Mastercard, American Express, Discover, UnionPay or Retailers like Macy's, WalMart, or Gas/Petrol companies like Shell, Exxon, BP. The card can be magnetic stripe and/or smart chip with debit, credit or prepaid as long as it bears the branding logo of a recognized secure issuer.
Loyalty, Promotional, Gift Cards: Includes cards for airline, hotel, car rental and grocery loyalty programs. Also, gift cards with a prepaid value usually initiated at check out. Cards must be printed on card stock of 24 to 30 mil thickness and can be magnetic stripe or smart chip.
ID Cards: Includes government-issued cards like healthcare, drivers license or national ID.
Access Control Cards: Includes cards for access control such as door keys, access ID badges or cards for entry/access.
Unique Innovation: Most innovative technical achievement in card functionality or Personalization/Fulfillment product or service that demonstrates novel, unique or expanded functionality in response to customer application requirements. Entries must be card industry based products or services.
Prototypes / concept cards developed between April 1, 2022 and February 28, 2023 can be considered for the Unique Innovation category.
Personalization & Fulfillment (P&F) Product, Service or Project: P&F bureaus can enter a new card-based product, service or project that was launched into the card market this past year. It could be a unique and attractive card package that was personalized and fulfilled to the cardholders of a specific secure or non-secure market and issuer.
Best Supplier/Vendor New Product, Service or Innovation: Associate members can enter your own product, service or innovation that was utilized in the card and/or personalization & fulfillment industry this past year. This could include items such as materials, equipment or services.
People's Choice (selected by ICMA EXPO member delegates): Attendees at the EXPO (exclusive of spouses or guests) will select their favorite Card or P&F Product or Service from all of the entries received in any of the above categories. These entries will be displayed without identification of the ICMA member entrant.
NEW IN 2023 – Unique Component Supplier: Judges may select the most unique component from all of the entries received in any of the above categories. The supplier of the component will win an Élan Award.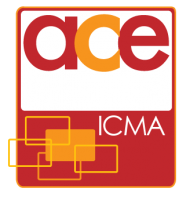 ACE: Advance Your Career and Your Company's Reputation with ACE Designations
There's a lot of competition in the card manufacturing and personalization/fulfillment industry, but the ACE-M, ACE-P and ACE-A designations will set you apart. It's awarded to people with a broad and detailed knowledge of the industry who successfully complete a rigorous exam. As the demand for experts grows, continual training and expertise are crucial for individuals – and companies – to stay ahead of the pack.
Will you be the next person in your company to ACE it at our EXPO?
Training Dates During the EXPO:
ACE-M: Manufacturing Training –
(Part 1) Monday, May 15, 3:00pm EST - 6:00pm EST
(Part 2) Tuesday, May 16, 10:00am EST -1:00pm EST
Exam Dates During the EXPO:
ACE-A Exam – Friday, May 19, 8:00am EST - 12:00pm EST
Private and in-person trainings are always available.