Top 5 Reasons to Attend ICMA 2020 EXPO
Industry events are one of the best places to get business ideas, build your network, position yourself as an expert and learn a new skill—all in one place. Yes, attending a conference is an investment. But it's one that's worth making, especially in a niche market like the global card industry.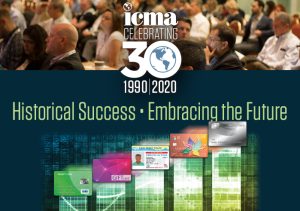 The International Card Manufacturers Association (ICMA)'s 2020 ICMA Card Manufacturing & Personalization EXPO will take place March 29-April 1, 2020 at the Saddlebrook Resort in Tampa, Florida, and will explore new and exciting ways to apply science, engineering, tools, methods and knowledge to the development of equipment, products, services and eco-friendly materials.
"This year's EXPO is particularly important as we commemorate ICMA's 30th anniversary of serving a unique niche market and building unity within the industry," Jeffrey Barnhart, executive director and founder of ICMA said. "The 2020 EXPO will lay the groundwork for continued growth with presentations focusing on embracing emerging trends and remaining competitive into the future."
As the world's only manufacturing-focused global card conference and exhibition, the EXPO—themed "Historical Success, Embracing the Future"—will focus on the future of the global card industry, trends and technology.
Geared toward both small businesses and large corporations, the EXPO is attended by representatives from more than 200 companies in 40 countries worldwide and includes speed networking sessions, dedicated exhibition hours and leading-edge education.
Still wondering why you should attend the EXPO?
#1. Tap into the Knowledge of Industry Experts
From learning about trending topics, to practical and strategic takeaways, the 2020 EXPO will cover a lot in a short period of time. Presentation topics and panel discussions will include: 5 things to know before setting out on your metal card design journey, the evolution of the biometric smart card market, marketing to Millennials through design and creativity, the future of cards and what the industry will look like in the next 10 years, as well as technical and marketing presentations on the "greening" of the card industry.

#2. Gain Business Management Insight from Best-selling Author
David Burkus, a sought-after speaker and associate professor of leadership and innovation at Oral Roberts University, is the keynote speaker. During his presentation, "Under New Management: Full Transparency, Less Email, No Cubicles and Where the Future of Work is Headed," he will provide evidence-based strategies and real-world examples for building stronger teams, enhancing productivity and improving employee morale.
#3. Get Face Time with Industry Players from around the World
Between speed networking sessions and dedicated exhibition hours, you'll have the perfect platform to network, make new business connections and strengthen existing ones.
Eric Virostek of G+D Mobile Security attends the EXPO every year and said, "Speed networking is my favorite part of the EXPO. It gives me an opportunity to talk to a lot of people in a short amount of time, including people I wouldn't normally get a chance to speak with, especially face-to-face."
#4. Showcase Your Company
As the world's only manufacturing and personalization-focused global card conference, the EXPO is designed to educate attendees about new ways to develop products that will help the card industry evolve—from gift cards to loyalty cards to identification and financial cards—into an era of innovation. Serving as a sponsor or exhibitor is one of the best ways to guarantee visibility among your target audience.
#5. Find Out about Leading-Edge Innovations
If you want to get ahead in a rapidly evolving niche market like the card industry, attending conferences is a must. In addition to identifying market opportunities and meeting prospective customers, you'll learn how peer companies are tackling industry-specific issues.
"The EXPO brings together all of the people who make the card products—from the inks to the cores, to how everything is bonded together," said Megan Bogard of CPI Card Group. "I come back every year and I look forward to talking about all of the new innovations."
Entries into the 2020 ICMA Élan Awards of Excellence, which represent the pinnacle of design innovation, security and technical achievements in the card industry, will be showcased and the winners will be announced at the conference. In response to the cresting metal card trend, this year a new subcategory for metal cards will be added to the Best Secure Payment Card category.
The awards spotlight the best of the best in the global transaction card industry, honoring world-class achievements in card design, technological innovation, as well as other categories that establish the global vanguard for card manufacturing excellence.
Register Today!
Sponsorship and exhibiting opportunities for the 2020 ICMA Card Manufacturing & Personalization EXPO are now available.
The early registration rate is $995 for members and $1,595 for nonmembers. Discounted rates expire Jan. 28, 2020. For more information, visit icmaexpo.com.
Want More Industry Insider Insights or a Glimpse into Global Card Trends?
For three decades, ICMA has represented the interests of the card manufacturing industry—which includes manufacturers, personalizers, issuers and suppliers—as its leading global association.
ICMA offers regular educational opportunities, including the web-based Card Industry Training & Education program, which provides information on key areas of the industry, as well as tutorials and webinars from industry experts. ICMA also provides reports on the card market and on personalization and fulfillment statistics to keep members informed of emerging trends and changing forecasts. Throughout the year, ICMA members have the opportunity to share insights and knowledge by giving presentations at ICMA events, webcasts and tutorials.
The organization hosts three conferences each year. The main event is the annual Card Manufacturing & Personalization EXPO and the other two conferences are CardTREX North America and CardTREX Europe.
To learn more about the benefits of ICMA membership, click here.