ICMA Launches New Virtual Training Series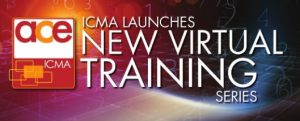 ICMA has expanded its Advanced Card Education (ACE) program to include a new virtual training series. The first training in the series is ACE-Commercial training.
The purpose of ACE-Commercial training is to provide sales, marketing, customer service and other key personnel at your company with the opportunity to learn the fundamentals of card manufacturing. Others who may find this training beneficial include suppliers and consultants who want to have a deeper understanding of the card industry opportunities and challenges experienced by card providers.
Employees who participate in the training series:
Receive a high-level overview of the major components of a card manufacturing business.
Learn about the production of cards.
Review customer service support and sales issues that arise in the sale and support of card products and projects.
Review top-of-mind questions and topics that customers of card products may have.
Unlike ICMA's other ACE programs, which require students to pass an exam to achieve a corresponding certification, ACE-Commercial is designed to provide employees in customer-facing roles with high-level card industry education without the need to enroll in certification-level curriculum.
Conducted by David Tushie, ICMA's standards and technical representative, ACE-Commercial is taught in two, 2-hour sessions on the same day. There are no prerequisites, but the program is only available to current ICMA member companies.
Employees who complete the training class will receive a certificate of completion.
Upcoming Program Dates
Tuesday, September 29 at 8:00 a.m. New York, 13:00 London, 14:00 Munich
Wednesday, October 21 at 8:30 p.m. ET (Thursday, October 22 at 12:30 a.m. GMT)
Wednesday, November 18 at 10:30am New York, 15:30 London, 16:30 Munich
The cost to attend the training is $249 per attendee or $210 per attendee for groups of five or more from the same organization. Private company training is also available at a reduced rate for groups of 10 or more.
For more information and to register, visit ICMA.com.