Innovative Ink Solutions for Card Security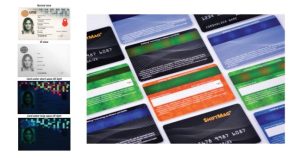 Cards used for various purposes need cost-effective security features that provide optimal protection. Cards should enable multi-level authentication for effective authentication under different circumstances. Highly secured solutions for ID applications have to respond to the increasingly sophisticated demands required for identity systems worldwide.
Innovative ink solutions can maximize design freedom while enhancing security against counterfeiting. Expertise in security printing and considerations on design and integration of ink-based security elements are vital, according to Card Security: Ink Solutions and Trends in Security Features, a recent webcast presented by Mike Walsh, regional sales director, SICPA.
Threats to Card Security
Threats to card security include the creation of fake cards, construction of fraudulent card parts using stolen materials, photo substitution, deletion/alteration of variable card information such as personal data, fraudulent use of genuine cards, skimming, theft of card pin codes, internet and phone banking with stolen card data and all possible scenarios of identity theft.
The Reality of Fraud
In 2018, $24.26 billion was lost due to payment card fraud worldwide. That year, the United States lead as the most credit fraud prone country with 38.6% of reported card theft losses.
Experts predict that total card losses in the United States could reach up to $12 billion by the end of 2020.
Different Cards Have Different Security Needs
Identification cards, driver's licenses and government cards need effective, multi-level authentication and protection with security features dedicated to high-security applications. These types of cards are issued by governments and have an average lifespan of 5-10 years. They are made with PVC or other synthetic substrates and need to be laminated and incorporate overt and covert security features allowing for various levels of authentication. These cards need to fulfill the demands of identity systems worldwide and their variable personal data requires protection.
Bank cards need reinforcement of their existing security measures and additional security features to protect the card owner's personal data. Holograms have been used as a security feature for financial transaction cards (credit and debit cards) for more than 30 years but this technology has matured and now has a high risk of fraud.
Gift cards need basic and instant visual authentication while reinforcing their brand image. Issued by brand owner companies, gift cards, discount cards and VIP promotional cards, need special effects and security inks to allow flexibility in design and color choices while ensuring effective protection.
Access/membership cards validate high-traffic access to protected zones with machine-assisted authentication.
Transportation cards need to enable on-the-spot verification of legitimacy by controlling agents for multi-level authentication. Issued by transport companies, these cards are usually replaced monthly or annually. These cards contain variable personal data and a photo of the cardholder and need anti-tampering protection. They have overt features to enable authentication by controlling agents. Machine-readable security features can be incorporated for high-speed validation at turnstiles.
Warranty cards need to enhance brand image and quality differentiation, as well as reinforce brand recognition. Their protection can vary from standard to customized solutions depending on the brand and product image differentiation needs.
How to Tackle Threats
Security solutions should be adapted to the specific needs of different card segments. An effective approach to tackling security threats is to use security features that enable various levels of authentication and exclusive technologies that are reserved for the security industry. Highly secured solutions can respond to the increasingly sophisticated demands required for identity systems worldwide.
Color-Shifting Inks
Color-shifting inks create an easily recognizable color-shift for secure authentication; produce an obvious shift from one color to another when viewed at different angles. They have excellent color quality and ink adhesion and can be combined with other security features. They are print screened and work on a variety of different substrates. They are also durable and hard-wearing for long lifecycles.
Color-shifting inks in a hot stamp form factor open up robust color-shift security to printers that have not had the technical ability to print before. These inks have an instantly recognizable color shift when viewed at different angles. They do not require an origination fee and their die is easily changeable for customer needs. They can be combined with other overt, covert and forensic security features.
Color-shifting inks in mag stripe provide an eye-catching visual never seen before on a magnetic stripe. They offer differentiation from the competition and modernization of cards' back sides. These inks provide customizable design that enhances brand identity. Their origination costs are minimal.
Anti-Duplication Inks
The effects of anti-duplication inks are impossible to photocopy or digitally recreate. They are easy to authenticate with simple tools. They can be added to almost any fixed color visible ink. They are available in offset and screen formulations.
Infrared (IR) Transparent Inks
The visible ink becomes invisible when viewed through an infrared image viewer. Printed information can be hidden from view when used with an opaque counterpart.
Fluorescent Inks
They are incandescent under ultra-violet (UV) light. Single, long wavelength (369nm) UV fluorescence is commonly used by itself, printed invisibly or incorporated into another type of ink. Dual UV wavelength invisible fluorescent ink fluoresces one color under short wavelength UV (313nm) and another color under long wavelength UV (366nm).
Iridescent Inks
Iridescent ink is a translucent, pearlescent ink that creates a unique metallic effect. When viewed at different angles there is a subtle change of iridescent tones that can be seen. The effect can be maximized when printed over opaque inks.
Machine-Readable Inks
Machine-readable inks have extremely high counterfeit resilience and can create unique and exclusive compositions. They can create highly versatile integration formats and provide efficient readings with detection precision. These inks have multiple detection capabilities. Data can be collected and processed to generate comprehensive information and patterns for monitoring and analytics.
Microstructure Optical Taggants
Microstructure optical taggants are microscopic pieces of materials that are uniquely distinguishable by structure, size, shape, color, surface description, etc. A low amount of taggants do not interfere with the properties of the ink with which it is mixed. Optical taggants are specific taggants that have been customized with a logo or symbol. They are covert and invisible to the naked eye and are detected with an optical microscope with magnifications from 400x to 1,000x.
Digital Inks
Digital inks are becoming more common due to their reduced color-matching time. There are no limits on color and they provide full gradation. They are used to print finer, smoother details through higher resolution. These inks offer quick delivery, low cost small volume production flexibility and are environmentally friendly.
LED-Curing Inks
The use of light-emitting diode (LED)-curing Inks is expanding in card markets. Advantages include heat reduction, longer lamp life and no dry times. They provide high resolution and offer a wide variety of colors. They can be applied to non-porous substrates including PVC, Teslin, Tyvek, synthetic, PP synthetic, etc. These inks offer print stability and various finishing options. They save energy and are environmentally friendly.
An Integrated Approach
Security inks are easy to integrate into new or existing cards, depending on various design needs. With relatively small/restrictive areas, security features should be integrated at the design stage consideration of feature functionality, location and printability. Security inks come in a multitude of colors/styles and they help produce a secure, yet aesthetically pleasing card without dramatically increasing costs. There are limitless design options.
A Multi-Layered Solution
No one security feature can protect the entire card. When included at the design stage, security features tend to resist counterfeit or forgery more effectively than when adding security to an already existing printed item.
Printers need to collaborate with their clients and ask questions to align security features with their needs, such as:
What type of card is it?
What level of security is required?
What substrate will be used?
What is the desired card life?
Who will be authenticating the card?
How many people will be authenticating the card?
Are those who are authenticating the card sufficiently educated in security identification?
Printers can advise clients in the creation of cost-effective solutions with targeted security features, designed to defeat specific problems. Security should not limit card creativity and design. Inks offer an infinite variety of colors and design options. Often, security is only considered when a problem has occurred, but successful printers are proactive, not reactive, in offering their clients the latest technology in fraud protection.