5 Reasons Why Paper Cards are Making Inroads into the Transaction Card Market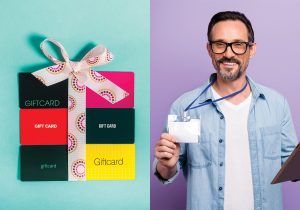 "Paper or plastic?" is a common question that consumers consider before conducting a transaction.
The term "paper" commonly refers to paper money, but here are five reasons why paper cards are entering the equation, according to Greg Maze, director of product management, packaging, Neenah Inc.
Performance/Security
Paper card substrates are more suitable than ever for non-secure card applications, including closed-loop gift cards, merchandise-return cards, ID cards (i.e., medical cards, insurance cards), hotel key cards and direct mail.
"For non-secure applications, paper cards offer the performance/security of plastic, with the improved print quality/aesthetics of paper," Maze said. "Paper substrates print better than plastic. They are whiter/brighter than plastic."
Ease of Redemption
Rapid adoption of payment technology, like digital wallets, is leading to changes in consumer behavior.
"Previous considerations like card life and ability to reload have been replaced by ease of redemption online or via app, and end-of-use/sustainability benefits," Maze said.
Sustainability
Paper cards contribute to corporate/brand sustainability goals and aspirations. "They address current environmental concerns surrounding single-use or limited-use plastics, are 100% recyclable, repulpable, manufactured using Forest Stewardship Council-certified fiber and contain post-consumer waste," Maze said.
Production Ease
There are also production considerations in light of today's ever-challenging plastics market. The extreme weather events in Texas in February, for example, greatly impacted access to the raw materials needed to make plastic cards, translating into product shortages, very long lead times and rapidly rising prices. "Paper cards have a more stable supply chain and in light of recent pricing trends, in many applications, are priced at or below plastic cards," Maze said.
Market Growth
In the near future, as COVID restrictions ease, the demand for paper cards will return to pre-pandemic demand. Current supply challenges and price pressures in the plastics market will rapidly encourage issuers and manufacturers to move to paper cards.
The changes in payment technology (elimination of mag stripes, rapid adoption of digital wallets, etc.) are also bringing innovation to the card market both in terms of creativity and substrate options.
"In the distant future, we see the rapid growth of paper cards in all short-term and single-use plastic applications as more corporations/brands implement sustainability goals or government regulations force them into the adoption of plastic alternatives such as paper-based solutions," Maze said.
Where to Start
With the rapid ascent of paper cards, Neenah Inc. is seeing card manufacturers investing in equipment specifically for paper cards to help increase throughput.
"All of our successful paper card manufacturers got their start in the industry on plastic," Maze said. "Products like our Imagemax Paper Card are designed to run on the same equipment as plastic cards. When first starting out, some investigation needs be done related to consumables like inks, coatings, scratch-off labels or fugitive glues. Also, paper cuts differently than plastic, so punch or cutting dies designed for paper are generally used. Paper mills, like Neenah, can offer best practices to help minimize the learning curve in making the move."
Learn More at CardTREX
Maze will present "Paper vs. Plastic: How and Why the Gift Card Industry is Migrating to Paper" at the International Card Manufacturers Association (ICMA)'s CardTREX on June 10.
CardTREX is unique because it brings card industry professionals together for regionally focused education and networking. The event will feature two tracks. Educational and networking opportunities for European/MEA track attendees will be presented from 7 a.m. to 10:30 a.m. EDT. Educational and networking opportunities for North American track attendees will be presented from 11 a.m. to 2:30 p.m. EDT. Each track will feature three educational presentations, a roundtable discussion and time for networking.
"CardTREX attendees will learn about the new technologies and trends shaping the future of the global card industry, as well as participate in networking opportunities to enhance strategic business relationships in the region of the world where they work," said Jeffrey Barnhart, executive director and founder of ICMA. "Card industry professionals do not want to miss this opportunity to gain indispensable industry insights to drive innovation and profitability within their organizations."
The lineup of presentations for European/MEA track attendees includes:
"Biometric Payment Cards Ready for Mass-Market Deployment," Presented by Fingerprint Cards
"The Growth and Global Appeal of Metal Cards," Presented by the Thales Group
"Sustainable Innovation: Done Right, One Plus One Equals Three," Presented by Sustainable Cards
The lineup of presentations for North American track attendees includes:
"Paper vs. Plastic: How and Why the Gift Card Industry is Migrating to Paper," Presented by Neenah Inc.
"7 Golden Rules for a More Sustainable Card Production," Presented by Liveo Research
"Elevating the User Experience with Specialty Cards," Presented by Valid
The complete agenda for both CardTREX tracks is available at cardtrex.org/virtual/.
Sponsorship opportunities for ICMA CardTREX are available. Early registration discounts are available until June 3. CardTREX is an ICMA members-only event.
For details on becoming an ICMA member, please contact info@icma.com. For more information and to register, visit cardtrex.org/virtual/.
More About ICMA
ICMA is the leading global card association for card manufacturers and personalizers supported by suppliers and other industry participants.
For more than 30 years, ICMA's annual Card Manufacturing & Personalization EXPO has served as the world's only transaction card-focused conference and exhibition. This year, the EXPO will take place from Nov. 7-10 in Orlando, Florida.
The association also maintains several industry-leading training and education programs including the Advanced Card Education program, which is the global standard of recognition for advanced knowledge of the card manufacturing industry.
ICMA officially participates in the International Standards Organization (ISO) and the American National Standards Institute (ANSI) and annually publishes two global market statistics reports on the card industry.
For more information, visit icma.com.