Personalization to Meet Consumer Expectations and Lifestyle Needs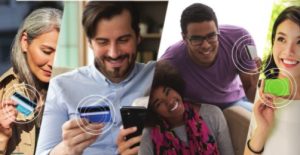 Personalization is the technical process of marking private data, specific to a given card, onto the card surface. Personalization is an important part of plastic card production and is one of the means of protecting a card from unauthorized use.
Among the many ways to personalize plastic cards, there are those that can be changed if necessary (information stored on a microchip or magnetic stripe) and those that cannot be changed. Also, personalization technologies that are widely used today can be roughly divided into two types: the results of which can be seen, or visual, and electrical.
"Tietoevry offers a variety of different personalization techniques," said Bjørn Vold, head of product management/lead product manager, card production and personalization, Tietoevry. "All processes are carried out in accordance with the requirements of the Visa and Mastercard international payment schemes. Practical experience in applying various methods of transmission and confidential information processing allows us to satisfy nearly all customer needs for the organization of information exchange and to use the data for the personalization of the customer's cards."
Tietoevry serves banks and fintech issuers in the Nordics, Baltics, UK and Ireland, with three card personalization centers in Norway, Finland and Latvia, and has been personalizing cards since 1993. "With card deliveries to banking and finance, private and public sector, Tietoevry Card Production and Personalization must be in the forefront of trends to meet baseline consumer expectations and lifestyle needs. Equally important, to deliver innovative technology and environmentally friendly products."
Current Personalization Trends
The top three personalization trends are currently the use of durable graphic, drop-on-demand and laser. Durable graphic and drop-on-demand are used well together with Visa and Mastercard's new options for positioning credentials on the cards. "We see more of vertical cards and Visa's Quick Read designs used, with the possibility for the banks to have a cleaner front design, moving credentials to the back of the card," Vold said.
Laser personalization on cards is a material processing operation since no ink, toner or pigment is added to the product. Laser energy applied to the card changes the material characteristics to produce some type of visible mark. Because of this, the specific materials used in the card will affect the personalization results.
Top Personalization Trend Drivers
"The trends, as we see it, come from consumer expectations and needs, together with new technology making innovative products come to life," Vold said. "With the wave of fintech's entering the markets, there has been an awakening within the schemes as well, opening for more untraditional products pushing new consumer-oriented technology."
Vold added, "The top trend, I would say, is sustainable or eco-friendly plastic with a change from first-use PVC to recycled PVC, PLA, recycled PETG and ocean plastic (recycled PET). There is high focus globally on sustainability in the card industry value chain both in the secure and non-secure cards sector with an aim to get cards as eco-friendly as possible."
Flat Printing Technology's Effect on Personalization
Flat printing technology, i.e., durable graphic and drop-on-demand, allows personalization of variable information with high resolution at high personalization speed. It allows printing on a large variety of materials as well as printing in integrated chip and antenna locations.
Durable graphic personalization requires a flat surface; thus, it is not possible to print across a surface with varnished elements. "Obviously, this also affects the card designs making a change there as well," Vold said. "The flat printing technology has resulted in a shift moving away from embossing for half of all products and the number is increasing."
Eco-Friendly Materials' Effect on Personalization
The use of innovative card materials including eco-friendly materials can limit personalization options. "Our own experience is that some product families made of innovative card body materials will not be approved for embossing at our sites," Vold said.
The reason for this could be either their failure to perform at relevant CQM tests for embossing or their varying process parameters for embossing. "However, this has not been a problem for our customers as we can offer durable graphics, drop-on-demand or laser instead of embossing," Vold said. "Other than that, the eco-friendly card products have performed pretty similar to PVC when it comes to personalization."
Are There Eco-Friendly Personalization Techniques?
All the different personalization techniques will add some minor impact to the card personalization environmental footprint. "However, transportation of cards and electrical consumption during the personalization process represents the greatest impact to the environment," Vold said.
Green renewable energy used during the personalization process is the most important contribution to keep the card personalization environmental footprint to a minimum. Utilizing consumables and having reliable and good process control to avoid waste and remakes, is also an important contribution.
How Does Personalization Play into Card Security?
Historically, the security of the card was mainly visual, with e.g., the hologram, printed account number and signature, but after the transition to chip cards, the security was taken to a new level. "The electronic security with the personalization of security keys and security rules to the chip, now plays an important part of the card security," Vold said.
Electronic Card Elements' Effect on Personalization
The introduction of more electronic elements into the card body has itself forced new technology to card personalization to be able to personalize without affecting the electronics inside. "New electronic technology has at the same time decreased the number of electronic elements or made them smaller, preventing negative impact during personalization," Vold said.
Conclusion
Personalizers, card manufacturers and chip manufacturers must continue the close cooperation to meet the high security and quality standards set by the schemes. At the same time, increasingly more consumers expect cards to contain more technology and to be more eco-friendly, in-line with their lifestyle.
"I believe the latter have come to a good start for the schemes, whilst the card industry follows up with a growing focus on circular economy and sustainability work," Vold said. "Undoubtfully, for the schemes it requires to have a clear but visionary roadmap being supportive to the card industry, and for the card industry to follow up and continue to nourish cooperation to deliver consumer-oriented card products."