ICMA Recognizes Sustainable Card Products with EcoLabel Standard Program
There's a swiftly growing global sustainability movement, particularly in the card manufacturing industry. According to a recent global study, 92% of companies are adapting their business strategy and model to be more sustainable and plan to increase investment in sustainability initiatives to improve environmental social and governance performance in 2022.
Why Did ICMA Develop the EcoLabel Standard Program?
Due to consumer and card issuer demand for green transaction and identification cards, the International Card Manufacturers Association (ICMA), the leading global card association for card manufacturers and personalizers, developed the ICMA EcoLabel Standard Program.
"The card manufacturing industry faces a rapidly changing global marketplace and is counted on for leadership on the technological and socioeconomic issues, including environmentally friendly card products," said Jeffrey Barnhart, ICMA founder and executive director. "Through the EcoLabel Standard Program, ICMA and its members are building recognition of the card industry for its environmental intelligence and commitment to leadership through environmentally responsible manufacturing initiatives."
ICMA's Green Task Force developed the ICMA EcoLabel Standard Program through an open process involving card manufacturers, personalizers, suppliers and issuers internationally. Providing guiding standards and credibility, ICMA acts as an independent third-party organization.
What is the EcoLabel Standard Program?
The ICMA EcoLabel Standard Program is voluntary and demonstrates support of sustainability initiatives. This certification validates third-party credibility of card manufacturers' claims that a product is an environmentally preferable alternative.
Specifically, the ICMA EcoLabel Standard Program:
Defines criteria for environmental green card standards
Allows for ICMA EcoLabel usage
Licenses companies and certifies card products
Ecolabeling has evolved as a method of identifying a product's environmental integrity, as businesses pursue market advantage by responding to consumer environmental concerns. However, without guiding standards and verification by an independent third-party, manufacturers' environmental claims may be questioned by consumers.
What is the EcoLabel Standard Program Criteria?
The current criteria parameters include:
Reduced materials (minimum of 25%)
Recycled content (minimum of 25% threshold)
Compostable (municipal and home)
Biobased content (minimum of 40%)
What are EcoLabel Standard Program Card Manufacturing Industry Benefits?
Through the EcoLabel Standard Program, in addition to licensing member manufacturers, certifying card products and administering EcoLabel usage, ICMA is providing the following card manufacturing industry benefits:
Best practices to manufacturers, contemplating application for EcoLabel licensing and registering/certification of their products
Dissemination of ICMA EcoLabel and sustainability information to the card industry
Representing the interests of EcoLabeling in international meetings and forums
What are EcoLabel Standard Program Licensing Benefits?
ICMA members, who are licensees of the EcoLabel Standard Program, realize benefits encompassing:
Demonstrated sustainability commitment
Approved EcoLabel logo on qualified cards, at the issuer's request
Licensee logo placed on all manufacturer's corporate communications, conveying a "green" image to customers
Manufacturer-driven public relations
Inclusion on ICMA industry public relations, publications and social media
Who are the EcoLabel Standard Program Licensees?
There's a growing number of ICMA members, who are licensees of the EcoLabel Standard Program. Current licensees include:
What are EcoLabel Standard Program Licensees Saying About the Program?
Both IDEMIA's Smart Metal Art and Smart Prime cards have met the EcoLabel Standard Program's requirements for the Recycled Content category at the Verified level.
"This EcoLabel evidences to our stakeholders the environmental integrity of our metal cards into the industry we are working in," said Manuel Inconnu, Business Line Director, Metal Card, Financial Institutions BU, IDEMIA. "With Smart Metal Art and Smart Prime, IDEMIA can guaranty that its full range of metal cards contains a minimum of recycled content allowing our customers to clearly understand the precise environmental accomplishment of IDEMIA and our improved achievements over time."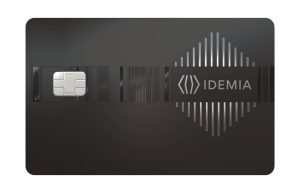 IDEMIA's Smart Metal Art Card
Targeting the lower end of the mass affluent market, the Smart Metal Art card is meticulously engineered for best-in-class performance and durability. "Smart Metal Art raises the industry standard in card body innovation," Monange said. "This innovative metal card solution is protected by printed plastic layers on the front and reverse, enabling IDEMIA's industry-leading printing capabilities to be combined with exposed metal features and extended tactile technology for never-before-seen visual effects. Smart Metal Art provides a premium cardholder experience without sacrificing any functional performance due to its industry leading metal card dual-interface technology. The Smart Metal Art card contains an average of 58% recycled content, consisting of 78% recycled stainless steel."
IDEMIA's Smart Prime Card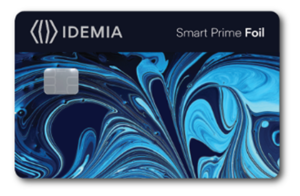 Targeting the upper end of the mass market and designed to meet the market demand for a premium feeling card while keeping a brand-conscious PVC edge, Smart Prime is IDEMIA's premium weighted card offering. "A foil option is available onto the card to give a reflective metallic effect to embellish certain design features," Monange said. "The Smart Prime card contains an average of 51% recycled content, consisting of 78% recycled stainless steel."
IDEMIA believes that environmental protection is everyone's concern and that it must always improve its current environmental protection practices and innovate with greener products and solutions while answering customers' needs. IDEMIA R&D teams are therefore continuously working on creative sustainable products and solutions, by defining new materials and designing new formats to help our customers in the evolution of their sustainability needs. From lifecycle analysis and eco-design to waste minimization, recycling and offsetting carbon, IDEMIA is working on a wide range of initiatives to address its environmental responsibilities.
"In the payment ecosystem, we've already acquired a significant experience and success with GREENPAY, our eco-friendly end-to-end initiative encompassing products, services, processes and carbon emission offsetting programs to support the environmental migration
Considering the importance of offering and promoting greener products and solutions, IDEMIA decided to take part in the EcoLabel program to manifest its commitment to sustainability since the metal cards that IDEMIA manufactures are partly made with recycled content generated by pre- and post-consumer materials.
"IDEMIA therefore chose to get evidence from a third-party certification body to authenticate the green aspect of its metal cards," Monange said. "With this EcoLabel, IDEMIA also wished to promote the metal cards portfolio in line with environmentally conscious banking strategy."
Enrolling products in the EcoLabel program is definitely a must if companies want to evidence any sustainable initiatives that they have decided to take for their cards products, according to Monange.
"Obtaining an EcoLabel from a certification body can only be beneficial for those companies as it will allow them to add value to their cards, and to prove to their customers that they are acting for the planet and can actually offer them such products," Monange said. "Therefore, IDEMIA highly recommends enrolling in the program to valorize cards products for the sustainable actions they come with and to make their promotion with the best key selling points."
Establishing the Industry Standard for Environmentally Intelligent Cards
The ICMA EcoLabel Standard Program is open to ICMA members only. To get started, take the following steps:
Review the program documents
2. Complete the License Application
Apply to become a licensed manufacturer by agreeing to accept and abide by the program parameters and criteria. Once an approved licensee, share this status with your customers and in marketing material.
Follow all program instructions and requirements as part of the product registration process. A third-party assessment report is required for the certified level.
Learn more about ICMA's EcoLabel Standard Program at https://icma.com/ecolabel-standard-program.