Cards Reimagined at ICMA's 2022 EXPO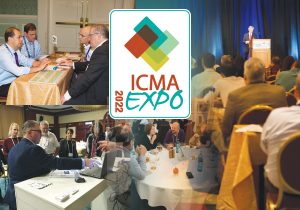 Hundreds of professionals focused on driving their card organizations forward in the quickly evolving global card industry came together to strengthen business connections and expand their knowledge at the 2022 ICMA Card Manufacturing & Personalization EXPO.
The EXPO, which featured more than 40 exhibits, numerous educational sessions and various formal and informal networking opportunities, took place May 15-18 at the Saddlebrook Resort in Tampa, Florida. This year's theme was Cards Reimagined.
"The ICMA EXPO is the only event that focuses on card manufacturing and personalization and provides participants with opportunities to network with the industry's top manufacturers and suppliers," Jeffrey Barnhart, ICMA founder and executive director, said. "This event helps attendees grow professionally and expand their knowledge base with essential education and exhibits. ICMA is proud to support professional development and industry advancement by organizing the EXPO."
The EXPO featured a comprehensive conference program with a keynote speaker, presentations by industry thought leaders, Speed Networking and dedicated exhibition hours. Barry Mosteller, ICMA's most recent past president, served as the EXPO chair.
ICMA kicked-off its conference on May 15 with its annual golf outing. Later that day, ICMA hosted another informal gathering to welcome new members just before the joint welcome reception in the exhibit hall.
After Barnhart's welcome address the following morning on May 16, David Burkus provided the keynote speech, "Best Team Ever: The Surprising Science of High-Performing Teams," and a workshop that provided attendees with a clear and concise understanding of how the culture of their team affects its performance and a simple and practical blueprint for how to build the best team ever.
The first day also featured the following presentations: "Eliminating Delamination: New Technology Opportunities" by Karl Singer, president/CEO, D&K Group Inc.; "Building on a Promise of Financial Inclusion" by Judy Vigiletti, vice president, brand strategy & innovation, integrated marketing & communications, Mastercard; Blockchain, NFT & Phygitals in the Card Industry: A Game Changer?" by Michael Dorner, owner & CEO, Variuscard GmbH; "Why Physical Documents Still Exist: Security by Portrait and Data" by Janos Friss, head of travel document business unit, Jura JSP GmbH and "Smartcard Recycling Concepts: End of Life" by Eric M. Virostek, senior product manager, secure transaction services, Giesecke+Devrient.
The second day of the day of the conference featured the Speed Networking session, during which ICMA exhibiting supplier companies welcomed card manufacturers, personalizers, issuers and professionals from affiliate companies to an interactive session in which they could strengthen or develop new business partnerships. It also featured "The 3 Ms: Metals, Magnetics and Modules" by Chris Burket, senior product marketing engineer, TDK Corporation of America; "The Time is right for Biometric Payment Cards" by Patrice Meilland, chief strategy and product officer, ZWIPE; "How to Capitalize on ICMA's Marketing Efforts to Benefit Your Company" by Kelsey Tweedly, marketing manager, ICMA; "Modern Payment Card Possibilities" by Denise Stewart, senior product manager, Entrust; "Eco-Friendly Materials for Card Bodies: An Overview and Status Update" by Thomas Decker, vice president, product marketing, finance, Linxens; "Solutions for Card Issuers to Improve Security and Enhance the Cardholder Customer Experience" by Thomas Weiss, CEO, Authentic Vision. The second day ended with the Elan Awards of Excellence Ceremony and Dinner, which had a Havana Nights theme.
On the third day of the conference, Megan Anthony, design manager, CPI Card Group, presented "Reinventing Card Design;" David Tushie, ICMA standards and technical representative, presented "Digital Personalization" and Fabio Romano, marketing director, STMicroelectronics, presented "Biometric System-On-Cards."
The ICMA EXPO concluded with Advanced Card Education (ACE) exams in manufacturing, personalization and advanced technologies.
ICMA would like to thank everyone who attended the EXPO and especially the companies that sponsored this year's event. The valuable support of Apollo Colours, CompoSecure, D&K Group Inc., SICPA and Wiman contributed greatly to the success of the 2022 ICMA EXPO.
ICMA is already planning the 2023 EXPO and we look forward to seeing you all from May 15-18 at the Renaissance Orlando at SeaWorld in Orlando, Florida.
For more information about ICMA's 2023 EXPO, stay tuned to ICMAEXPO.com.