How Inks Can Help Card Manufacturers with Sustainability Commitments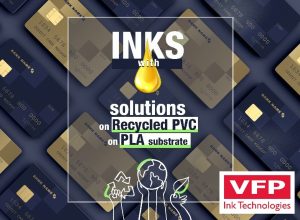 By Thierry Perrot – R&D Chemist Engineer, VFP Ink Technologies
The credit card market has taken a major shift toward more environmentally friendly
payment solutions.
Industry designers manage to adapt their products and manufacturing processes to
eco-friendly demand.
Lots of banking institutions have committed to sustainability and are already on their
way to a net-zero future.
To support them in this eco-responsible approach, suppliers and consumables manufacturers
have developed technical solutions that generate less waste, reduce earth pollution and
minimize carbon emissions.
Switching to green and plastic-free alternatives
Substrates manufacturers provide two different alternatives to first-use polyvinyl chloride (PVC):
Recycled sources like recycled (R)-PVC or recycled (R)-PET (polyethylene terephthalate): These recycled substrates are made from waste that cannot be reused in the same process that generated the waste. They're made using plastic waste from the packaging and printing industries. Cards can contain 80%
less first-used PVC. PET is well suited to recycling due to its advanced mechanical recycling properties, and thanks to the large volumes of waste produced during their process of use. Recycling reduces the need for extracting (mining, quarrying and logging), refining and processing raw materials, while saving energy. It is important to note that using recycled substrates also reduces greenhouse gas emissions, which helps to tackle climate change. The use of alternative eco-friendly materials meets the growing demand for eco-friendly products.
Renewable and biodegradable polymer material, eco-friendly alternatives like polylactic acid (PLA): It is thermoplastic polymer produced by fermentation of a carbohydrate source such as corn starch. Advantages of this biosourced material is that production uses significantly less energy (about 65% less) and causes considerably fewer pollutants (between 65% to 70% less emission of greenhouse gases) compared to classic cards. And since this substrate is compostable, disposal also needs less energy. Breakdown in industrial composting facilities will require only 2 to 3 months, and that process avoids the emission of toxic fumes by incineration for other plastics. PLA is an eco-friendly option, which is biodegradable, recyclable and non-toxic if incinerated.
Both of these sustainable substrate solutions can replace PVC for the manufacturing of a credit card,
but they do not have the exact same properties at the beginning.
There will be differences in the printability and in the mechanical characteristics of these substrate types that will need specific attention during the manufacturing process.
The selection of the right ink is an important step to obtain the usual specification required for a credit card.
How inks suppliers grapple with this issue
The quality of the final card cannot be achieved with any standard screen inks on these sustainable substrates without leading to technical difficulties.
Inks and varnishes designers work hard and innovate to provide the most advanced solutions to the industry.
Research and development departments and chemical engineers worked on functional and technical product specifications to acquire important knowledge in the credit card market during the last several decades and are now helping the market to go green.
Screen inks and varnishes solutions
The AQUACARD hydro UV ink series offers an efficient technical solution that combines the two advantages of a low carbon emission and the ability to print on these specific materials without causing any further problems like some other solvent-based or UV curing inks would do.
In addition to its good adhesion properties on R-PVC substrates, the hydro UV ink allows the PLA substrate to keep a good flexibility. It also avoids volatile organic compound emission during the printing process unlike solvent-based inks and a better screen stability compared to water-based inks that generally lead to more waste/change of screen emulsion.
Supporting sustainable practices
Upcycled plastics, or plastic-free alternatives, are a tidal wave of change and save natural resources, petroleum and raw materials.
Cards made from plastic substitutes, which are created from renewable sources rather than petroleum, prevent the issues regarding supplying limited raw materials and shortage of polymer and additives that consequently led to all-time record high prices.
Inks and varnishes suppliers can help card manufacturers stand out from the crowd and tailor solutions to new needs.
With research and development teams comprised of highly skilled chemical engineers, the inks and varnishes designers manufacture high-tech products designed for industrial use with cutting-edge technology and make a major contribution to helping payment card manufacturers in their green commitments.
About the Author: Thierry Perrot joined VFP Ink Technologies as an R&D Chemist in 2020. His main role is to formulate inks that will meet the specific technical requirements of printers and card manufacturers. Before developing screen printing inks, he designed flexography, offset or waterless inks—especially for UV radiation curing—for 15 years for label, packaging, publishing and fiduciary markets. VFP Ink Technologies is an inks and varnishes manufacturer with 25 years of experience in screen printing. The company provides high-end solutions worldwide with products specifically designed for laminated plastic cards (PVC, PLA, Recycled PET substrates). Years of development and a strong R&D department led to innovative formulas to meet customers' specifications and ensure satisfaction. VFP Ink Technologies covers an extensive range of applications and materials for printed labels, laminated PVC cards, printed electronics and packaging.