Banks Stand Out, Drive Consumer Preference with Payment Cards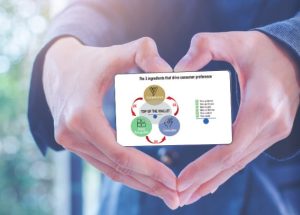 Consumers continue to follow the ingrained habit of reaching for a credit or debit card when making a payment or purchase, and all indications show that this will continue to be the case for years to come.  Based on recent Goldman & Sachs Investment Research & FIS/WorldPay reports, payment cards will continue to be the preferred method of payment of retail sales by 2024 with 46% of consumers preferring this method over any other payment means such as digital/mobile wallet, cash, direct payments and others.
When exploring some of the reasons why the card remains and will remain the preferred payment method, we can see that cards have become the last physical element directly linking the consumer and the bank.  A good example of this are neo-banks or fintechs whose operations are 100% digital.
If we take a look at what is happening with traditional banks, we can see that they are constantly adapting to market changes and embracing the digitization of many of their services and products. They are taking special care with regard to the image that they convey to their consumers through this special physical link that is the payment card. The key message that banks aim to convey to their clients is: "Your bank is the epitome of innovation, customer care, sustainability and customization."
In today's market, it is easy to find examples of the great efforts that banks are willing to go to in order to improve this physical link between their customers and the payment card by creating the best possible experience. Therefore, it is highly desired by the banks that this experience be recurrent, meaning that the card becomes the preferred use of payment on a regular basis. They are not only looking to send a strong message through the card but also aim to find the common elements and characteristics of each consumer segment that allow the banks to achieve the aforementioned effect, "top of the wallet."
In this sense, customization, social recognition as well as innovation are the key ingredients to consider in the design and construction of payment cards for consumers.
Customization in the sense that there is a market demand to have a product that is unique and personalized to each consumer reinforcing and validating the experience of being different.
Innovation understood as a key product feature that would provide to consumers the experience of security and that will make their life easier.
Social Recognition expressed as a need of distinction in social moments. Consumers are avid to experience the feeling of being socially perceived as a discerning, environmentally conscious and sophisticated person.These three ingredients work together to create the best user experience (UX) that will allow banks to achieve the long awaited "top-of-wallet" effect. A bank that manages to apply these elements with a good balance makes the product more desirable. As a result, the more the card is used, the more it generates transactions. This results in more loyal and confident consumers that, in turn, creates a more popular product; finally creates a bigger demand of such a card to be manufactured. Neo banks are a good example, as it is well documented that through new technologies, attractive products, lower fees and efficient services, digital banks are increasing their number of customers and gaining market acceptance.
The payment card today will not only remain relevant in relation to other alternative means of payment but also will continue to gain value as the tangible element that symbolizes the difference and distinction of individuals as well as their social status. The desire to be well perceived by others and a sense of belonging to social and economic groups remains a major catalyst.
About the Author: Jorge Lara Villalobos is manager of Strategic Marketing Payment Products at SPS IN GROUPE since 2019. Prior to his current role, Jorge was director of EMV & Contactless product for Latin American and the Caribbean (LAC) region at Mastercard. During his 12 years of tenure, Jorge steered Mastercard's strategic initiatives for scaling adoption of contactless technology by ensuring alignment with digital payments conversion and by providing strategic advice, consultation and tactical support to financial institutions, local authorities and banking associations in several countries in LAC. He has more than 20 years of experience in the payment industry working in different international companies such as Schlumberger, Axalto and G&D as product leader, sales support, system development manager and program manager.