Strategies to Reinvent Card Design Using Traditional Materials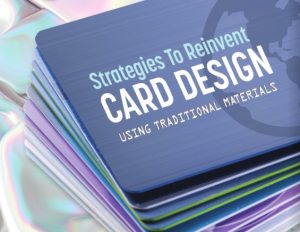 Card designers are always watching for ways to get creative with traditional materials that are readily available in order to simplify the card production process, according to CPI Card Group Inc., a member of the International Card Manufacturers Association (ICMA). Utilizing what's on-hand also presents an opportunity to streamline the process.
The good news is that there are many ways to reinvent the look and feel of the card, using commonly stocked materials and treatments, by thinking about them in uncommon ways. Megan Bogard, senior design manager of CPI Card Group, reveals ways to reinvent card design using traditional materials.
Traditional Card Materials Options
When considering traditional card materials options, the best place to start is with the core material. This is one of the biggest influences on the card design. At the very least, it determines the edge color.
The "core" of the card consists of the:
Front and back
Technology inlay layers
Any additional layers fused to the core such as full-face foils
When thinking of "common" materials, white core tends to be readily available and is quite flexible. Contrary to widely held belief, white core isn't boring.
Here are tips for maximizing a white base material:
Design with a white edge in mind: This may mean that the white core is a primary element of the design, and color is brought in with key elements of the graphics. For instance, the branding. Ask questions like: Are you trying to bring attention to the back of the card? Are you trying to amplify the portion of the card that peeks out of the wallet?
Use white core to make colors pop: If you're looking to boost your printed lithographic colors, this is one of the true strengths of white core. It provides a bright white starting point to begin laying down layers of ink.
Go against trends: Many people love color core and it's used often. However, if your goal is to achieve a design that stands out, it means going against the trends. Also, be realistic about the trend for a solid white card. It seems good in theory, but the reality may not be so exciting. Avoid falling into this trap by utilizing silkscreen pearls and post-laminate prints.
While white core has its strengths, black core does as well. In addition to being readily available, the advantages include:
Already a classic: It doesn't take much to create a stunning card. Solid black, plus a post-laminate gloss treatment, can create a premium-looking card with very few passes for a timeless design. An additional benefit is that fewer passes required means less time on press.
Grabs attention: A solid black card edge that contrasts against a brightly printed card surface grabs attention. Although black works well with every color, a black core requires opaque white ink to get the same four-color process lithographic inks to show up. Placing opaque inks down before you print your process inks will allow some areas to reveal the solid core color, while others to pop with printed color. Remember, you don't need to fill every square inch of the card with ink. Negative space is your friend.
Another way to differentiate with traditional card materials is to build interest using under-laminate silkscreen inks. Below are the key benefits:
Adds visual interest: Silkscreen inks, like metallic silver or glass pearls, can be a valuable and cost-effective solution to add visual interest to a card.
Empowers creativity: You can get creative with where and how you use silkscreen inks because they don't always require a flood coat. Spot silkscreens that don't register to anything pre-printed can be a very distinctive design element.
As an example, you could print an image of a frog without using silkscreens and leave it at that. It's a frog and it's cute. Or you can print an iridescent silkscreen underneath the frog first. This is a case where contrast using location of silkscreen pigments is key. If the entire card is flooded with silkscreen, the effect would not have as much impact. Just make sure you're not creating any registration nightmares for the print teams.
Creating uniqueness with silkscreen pigments comes from asking questions and being thoughtful about the following:
What kind of silkscreen do you intend to use? Metallics, pearls?
Think about the influence the core material has on the silkscreen pigment. Black core will give vastly different visual results than white core.
Will lithographic inks print underneath or on top of silkscreens? If so, what colors? What's the best colored silkscreen pigment to complement that color?
Where are you putting it? Once a card is laminated, countless opportunities still lie ahead. However, with any post-laminate effect, think about where you're going to be placing personalization. Any disruption to the card surface impacts personalization.
Ways to enhance your card after lamination include:
Incorporate silkscreen post-laminate gloss or matte effects: This builds visual and textural interest.
Use hot stamping: It's not just for silver foil and signature panels. Look at the various foil colors and solid colors that are available and explore ways to add post-laminate design features.
Apply premium brand marks: There's a bit more flexibility than there used to be and they're a terrific way to elevate your card design.
Don't forget about the back of the card. Here are the top reasons to consider it:
The back of the card is an area of opportunity to really differentiate your card design.
While most cardholders may admire the card front, the back is where they interact with it, especially if the personalization is on the back. This may call for personalizing it a bit differently, from a design and layout perspective, to enhance the usability of the card for the end customer.
There also are ways to change how a card design is viewed and interacted with from a design perspective by using common card elements. One example is to play with the magnetic stripe. Using a standard black magnetic? No problem. Match the printed black lithographic ink in the design to it. This can create the illusion of an over-the-edge magstripe. As a design element, that takes the footprint of the magnetic itself into consideration.
Benefits of Considering Traditional Card Materials
Thinking about card design with materials that are readily available helps to set up the project for success. In the same way that a chef will gather all ingredients before attempting a new recipe, knowing the exact ingredients of the card ahead of time streamlines the process. Establishing the treatments and materials helps to set a realistic expectation for the completed card product and timelines. This can help avoid unexpected costs and keep product managers on budget.
CPI collaborates with the customer, as it's designing cards to help align its vision with the reality of manufacturing—all while maintaining appropriate timing and budget. With so many different approaches to card design and manufacturing, CPI looks to present a variety of solutions to its customers that will help keep the company's card product top of wallet.
Here are questions to ask before taking on a new card design:
How will the end user engage with the card product?
Is this tap to pay or contact only?
Is there a level of personalization involved that gives the cardholder a sense of ownership in the creation of their card? Elements like signature capture can go a long way.
While card manufacturers don't have the freedom to arbitrarily move the contact faceplate to the center of the card, there's flexibility to rotate the card body itself. As such, think about personalization locations and the tone of voice that comes out with different font choices. Of course, be mindful of ISO and guidelines.
Finally, as you dive into a card project, there's more possibility than you might assume. It's critical for card manufacturers to always be curious. Ask questions and see what materials are readily available. You might be surprised about how creative you can get with just a few key elements.