Why the Future is Phygital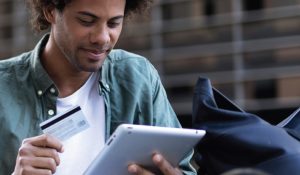 The COVID-19 pandemic fast-tracked the changing relationship between customers and their banks, as digital banking became increasingly ingrained in people's lives. Now, 73% of people globally use online banking at least once a month. Traditional brick-and mortar banks, which have long relied on the in-person experience with customers, are now having to step up their offering.
With new ways of working blurring the work-home boundary, banks must ensure a fast, seamless connection between face-to-face processes and virtual customer experiences. However, this does not mean that physical and digital banking
are in competition with each other. In fact, many continue to use physical bank cards, with 1.12 billion in circulation in 2021,
which provides the basis for digital payments and offerings. As a result, the benefits of digitalization should converge
with the comfort of physical touchpoints to create a holistic, "phygital" experience.
The Path to Phygital
Banks are accelerating their digital transformation strategies to keep up with the fast pace of fintech innovations. To meet the changing needs and preferences of customers, the payment world is leveraging new technologies to create personalized
experiences through a range of different channels. While the digitalization of banking was underway long before
the pandemic—particularly for younger generations—the crisis forced banks and customers of all ages to use digital
tools and processes to compensate for branch, office and call center closures. With branches worldwide typically operating
at reduced capacity due to social distancing requirements, consumers embraced online banking to avoid both the virus
and potentially long queues. Now, as COVID restrictions end, some consumers wish to return to the physical touchpoints they missed out on, meaning a digital-only approach won't suit everyone.
Striking a Balance
It's all about options—consumers now want to freely switch between traditional and digital channels without being forced
into one. But how can banks achieve this phygital balance? One way is to equip physical channels with digital capabilities, so that online tools can augment the physical experience. For example, personalized bank cards with a bespoke design can
be activated digitally, offering customers an extra layer of convenience. Having to wait for a new PIN to arrive in the mail
is a common bugbear for consumers, so bringing card activation processes into the digital ecosystem will ensure a more
seamless experience.
Greater automation in the card issuance and activation process enables the benefits of digital to be integrated into the physical banking experience without being intrusive. For instance, self-service kiosks empower customers to print their own cards, reducing the time between acquisition and card issuance, while still allowing for in-branch expertise if needed.
The Personal Touch
Phygital strategies also give banks a range of valuable data insights that can help them better serve their customers. This
includes data on purchasing behaviors and habits, which can then be utilized to improve banks' offerings and unify the
physical and digital brand experience. Using omnichannel data helps to build a hyperpersonalization strategy to provide
real-time services.
In this way, digital solutions help banks maximize their user experience. Whenever the consumer interacts with banks, it
creates data and behaviors. With fragmented databases, legacy systems and real-time data created by interactions with third-party partners through Application Programming Interfaces (APIs) it is not always easy for banks to streamline these data from different sources. By understanding patterns in that data and behaviors, banks can tailor and personalize unique experiences for each and every user.
Where Security Meets Innovation
With big data opportunities abound, banks should be mindful of their consumers' security concerns. Customers are now
demanding much more transparency when it comes to how information is stored and collected. At the same time, they still
desire greater personalization via digital methods. Therefore, any successful phygital strategy requires a robust digital security to ensure customers have the same peace of mind as when they complete physical transactions.
To close the gap between innovation and security, banks should utilize tokenized infrastructure, which ensures the safe
provision of payment credentials and securing of customer payments across all touchpoints. The use of a token greatly enhances the consumer experience. For example, it allows for card details to be automatically updated for subscription services upon the expiry of an existing one, avoiding any service disruption. Multi-factor authentication can also ensure an additional layer of security, as it combines a password with verifiable human biometrics such as fingerprints or facial recognition.
Best of Both Worlds
Every consumer has unique preferences when it comes to banking. Therefore, banks must evolve by bringing both physical and virtual touchpoints into a "phygital" world. Only a phygital approach can meet the needs of all end users—
whether they favor an in-person experience, an online one or a blend of the two. The holistic data insights, personalization
opportunities and optimized security ensured at every touchpoint are also critical in building future-ready banks.