Card Trends to Keep a Pulse On in 2023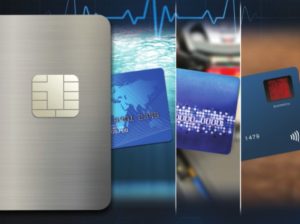 Driving innovation in the global card manufacturing and personalization industry in 2023 will mean taking risks, pushing boundaries and constantly striving for improvement.
"It requires a willingness to think outside the box and a determination to stay ahead of the competition," said Jon Wilk, president and CEO of CompoSecure. "But most importantly, it requires a relentless focus on the needs of the customer and a drive to create value that will last for years to come."
CompoSecure, which has provided breakthrough technology in metal payment card design for 20 years, is excited to introduce several new form factors as its partners continually seek elegant payment cards that deliver distinct experiences,
enable brand differentiation and enhance security.
LED Card: This card features the issuing bank logo on the face of the card, lighting up with LEDs when a contactless
transaction is initiated at the point of sale (POS).
Lux Glass™ Card: This transparent payment card made of Corning® Gorilla® Glass is durable enough for heavy
use but it also has an elegant look and feel.
Echo Mirror™ Card: Protecting this card is a newly developed coating, providing scratch-resistant protection to maintain the beauty of the mirror finish. It also features laser and mechanical engraving, offering endless options for clean and crisp customization and personalization.
Arculus™: In addition to being an award-winning cold storage hardware wallet, CompoSecure's Arculus technology can also transform a metal card into a multifunctional device to support both payments and to act as a "tap-to-authenticate" hardware key allowing for passwordless and hardware-based multi-factor authentication (MFA). Leveraging a payment card as an authentication key allows for frictionless user experiences, delivers improved customer security and continues to enhance a card issuer's brand. This security and digital authentication solution is FIDO2 certified, and CompoSecure has obtained approval by Mastercard and Visa to produce payment cards with authentication capabilities.
Dynamic CVV: CompoSecure is now able to add dynamic card verification value (CVV) technology to metal cards. This security feature converts the three-digit CVV code from a static number printed on the back of the card to one on a tiny e-ink screen that refreshes periodically. The cardholder must physically possess the card to have all the necessary information to make a purchase. This technology aims to fight the $32 billion payment card fraud crisis facing the industry.
A dynamic CVV/cardholder verification method (CVM) code is one of the most effective measures to fight the raising "card-not-present" fraud, while maintaining a seamless e-commerce shopping experience for the customer, according to LINXENS. Battery-free technology, in connection with easy processing on the card manufacturing side, paves the way for mass deployment. The technical principle of this reader powered electronic inlay also can be applied for future application in transit, loyalty or pre-stored value.
A prelam/inlay enables any card manufacturer to manufacture a dynamic CVV/CVM card. Contrary to other products currently on the market this requires no special machinery, processes or materials. Standard smartcard-equipment and processes are needed only. Moreover, LINXENS' integrated technology does not rely on a battery. The entire system is powered by the POS reader field. The CVV/CVM is updated whenever the card is powered by a reader/POS during a "card-present transaction."
"The credit card is an important part of the modern financial industry, which brings convenience to our daily life," said
Lindda Li, design director, Goldpac Limited. "With the development of materials and technology, the sense of science
and technology should be reflected in card making. This includes the usage of various eco-friendly materials and high-temperature resistant materials, making the credit card a modern payment product integrating finance, technology and culture."
According to Li, significant trends in global card manufacturing and personalization include keeping up with the new era, giving full play to the unique advantages of credit cards, expanding the business model of "materials+culture+technology" and helping the banking industry cope with the high requirements of the new era for application experience in the digital environment.
Over the last decade, key chip technologies have continued to improve, whereas the appearance of chips in cards has remained uninspiring. As people place greater emphasis on card designs, styles and special production techniques, unchanging chips have lost their appeal while unique and innovative chips bring greater possibilities to the card market.
Giesecke+Devrient (G+D) (China) Technologies Co. Ltd. has pioneered the design and development of special-shaped
chips. While fully satisfying the purpose and specifications of chips, the manufacturer has created uniquely shaped chips
that may be used widely. Unlike the conventional monotonous square shape, colors and engraving have been added to turn
chips into exquisite and unique inlaid artworks.
Wearable payment devices will also become one of the new means of quick payment. China CITIC Bank has joined hands with "Game for Peace" to launch a new wearable payment device, which is based on a classic device from the video game. It may simply seem like the game's merchandise and accessory, but it actually allows contactless payment.
In the government ID and access control card domain, Ammar Ahmed, director of strategic marketing and card design security program lead, D&V, Canadian Bank Note Co. (CBN) said CBN will continue to create value that benefits its government customers and the people they serve.
"The market will demand increased security and continue the trend of shifting toward well-designed polycarbonate cards
to combat well-funded counterfeiters," said Ahmed. "We anticipate a higher emphasis in requirements from the market
on a vendor's expertise and demonstrated ability to integrate security features seamlessly. While some see digital credentials
as a substitute threat to the market, we see continued progress on the mobile driver's license and digital identity credentials
as a complementary solution to the physical credential rather than as a replacement in the near future."
Thales DIS USA anticipates continued interest in innovative security and technology throughout the card design, manufacturing and personalization processes, including continued growth in the use of polycarbonate as a superior substrate.
"We are seeing more card issuing authorities continue to pursue card solutions with stronger security features and
unique designs for exceptional fraud prevention capabilities, said Hanne Adamsen, head of field marketing, Thales Identity
& Biometric Solutions, North America.
Cristina Bergeret, product marketing manager, innovative cards, Thales, France, said the trends emerging that will
continue in 2023 are as follows:
Minimalism: Reducing the design to its most essential but also removing security features like signature panel, hologram
and/or simplifying graphical personalization—through extensive use of flat personalization—and packaging.
Sustainability: Allowing banks to select the card material that best suits their sustainability strategy but also considering the entire product lifecycle—eco-design, packaging, graphical personalization, transport, distribution and end of life.
User-Centric Experience: Providing improved convenience thru a large array of payment means, adapting to their
cardholders' needs and taking accessibility requirements into account.
Instant Brand Recognition: Allowing the bank to be instantly recognized thanks to a strong brand identity, the increased
usage of innovation or by enabling their cardholders to co-design their card and make it unique.
The global card manufacturing and personalization industry's mission is clear for 2023—to serve clients with the best card
products, technology and designs. In order to achieve this goal, the industry must continue to constantly adapt to the
local market trends and end-customer preferences.