Global Leaders Transforming the Metal Card Industry 
The metal card market is experiencing continuous growth. Annual shipment levels of metal payment cards will grow from 29.6 million units in 2021 to 63.6 million in 2026, a 17% CAGR, as stated by ABI Research. This is being driven by the latest metal card industry trends that customers around the world are demanding. They include branded experiences, innovative technology and increased sustainability.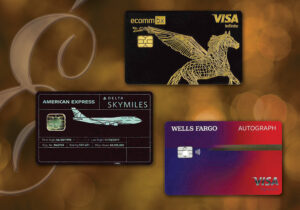 According to the International Card Manufacturers Association (ICMA), ICK International Inc., CompoSecure LLC and THALES are transforming the metal card market. The leading global card association recently recognized them with a 2023 Élan Award in the Feature Card – Metal category. The Élan Awards, open to members only,represent companies that are innovating and leading the global transaction card industry. Honoring world-class achievements in card design, technological innovation and other categories, the Élan Awards have established the global vanguard for card manufacturing excellence for more than 30 years.
Metal Cards
The following are Élan Award-winners in the Feature Card – Metal category:
ICK International Inc. (Winner)
ICK International Inc. manufactured the EcommBx Visa Card for EcommBx Ltd. MAX METAL™ is ICK's stainless steel and PVC hybrid metal card. The company produces one of the heaviest dual interface metal cards in the world (up to 21.5 grams), due to its U.S. and Korea patented dual interface antenna construction incorporating a slit. The card is able to optimize its dual interface performance by being able to tap both sides of the card. As a result of its unique construction, the card delivers a pure metallic "cling" sound.
The card is colored, with deep black color, through its stainless steel PVD coloring technology. This gives the colors a clear metallic feel, whereas being considerably harder and more resistant to degradation than ordinary printing technology. Since the front is not laminated, but coated during a proprietary process, it avoids the delamination issue that many metal cards face.
Highlighted is the high-quality CNC and 24K gold plating of not only the EcommBx logo, Visa Premium Brand, but lasered 3D Celestial Horse. The logo and Visa brand are first finished by CNC engraving. The engraved area of the logo is 24 K gold plated to appeal to its luxurious class. The Celestial Horse is engraved by laser, to emphasize its deliciated and complex lines to express 3D effects and finished with 24K gold plating by craftsmans' hands.
The VISA logo is also CNC'ed and 24K gold plated, with exquisite detail to realize its own unique and opulent PBM.
CompoSecure LLC (Finalist)
CompoSecure LLC manufactured SkyMiles American Express Cobrand Cards for American Express. After many discussions with specialists in various industries, and coordination with various companies, the work began on cutting out specifically sized panels from the Boeing 747. These panels were then flattened and annealed, to provide proper strength for the production of the metal card. In parallel, CompoSecure worked with the designers to be sure that the design, metal "show thru" and tactile effects on the card truly portrayed the vision. The end result is a piece of history in the user's wallet.
THALES manufactured theWells Fargo Autograph Easy Metal Card for Wells Fargo. The payment card is one of the most obvious tools that banks can use to communicate and that supports customer acquisition, retention and differentiation versus other banks. The card also remains the main physical link between the bank and its customer. Wells Fargo delivers an enticing set of advantages to its Autograph program subscribers. That includes its Easy Metal premium-feel card without giving up on style or design, clearly showcasing the bank's brand identity. Its discernible weight does not compromise ease of use thanks to its full payment scheme's certification. As such, Easy Metal Card has proven to be Wells Fargo's choice for its mass affluent Autograph portfolio, where proposing an affordable metal core was key to support such a large deployment.
A Renowned Showcase for the World's Best Cards and Technology
The ICMA Élan Awards of Excellence are open to ICMA members only. The 2024 Élan Awards will be presented at the ICMA Card Manufacturing and Personalization EXPO, which will take place from May 13-16, 2024 in Orlando, Florida.
Learn more about the other benefits of an ICMA membership.